[?]
Not a member? Sign-up now, it's free!
Login
[?]
These are links to some of the major sections in the mixtape collective.
Lists: Browse various lists that are generated by the loads of data we have collected.
Contests: Check out the latest contests, see previous winners, and find out how you can be a part
Music: Check out our ever-growing database of musical knowledge! Use it to find any artist, album, or track that has been entered since the birth of the site and rate and find detailed usage statistics.
Main
[?]
Tired of looking at the same old pages? Try checking out a random one, you never know what you might find...
Random!
smoked glass and chrome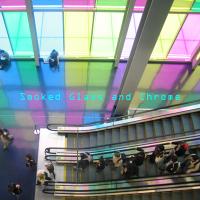 smoked glass and chrome
Created by:
draggin
Tracks:
20
Length:
01:19:59
Keywords
1. space
2. moon
3. bass
Created on
12/31/06 01:51pm
Level
4
Points
1984
Total visitors
42
Unique visitors
32
description:
multifaceted origins including; outerspace, the moon and introspective thought in a world of outward appearances. Is the vacuum of outer space the same as a mirror for self reflection?

theres an aspect of any mix that is at least partially autobiographical, this would be the case here. basically its alot of stuff that has really captured my ear recently. the title is copied from Ott's track of the same name.

peace!
tracklist
1
Metro Area : Intro
Blast off

SHOW MORE

Track 1 from Metro Area LP
Length: 00:00:32
Year: 0000
Track Description:
Blast off

SHOW LESS

2
The Cure : Lullaby
Feel gravity sweetly slipping away.

mixed onto the "Back to Mine" series by Tricky

SHOW MORE

Track 1 from Back to Mine
Length: 00:04:14
Year: 0000
Track Description:
Feel gravity sweetly slipping away.

mixed onto the "Back to Mine" series by Tricky

SHOW LESS

3
Kinnie Starr : Not Enough
The constraints of materiality are just too much.

SHOW MORE

Track 2 from Anything
Length: 00:03:53
Year: 2006
Track Description:
The constraints of materiality are just too much.

SHOW LESS

4
Seu Jorge : Rebel Rebel
hot tramp, i love you so

SHOW MORE

Track 1 from The Life Aquatic Studio Sessions
Length: 00:02:46
Year: 2005
Track Description:
hot tramp, i love you so

SHOW LESS

5
Kid Koala : Scurvey (edit2)
play with records

SHOW MORE

Track 11 from Carpal Tunnel Syndrome
Length: 00:00:33
Year: 2000
Track Description:
play with records

SHOW LESS

6
Metric : Rock Me Now
Roll me out in the arms of cobwebs

SHOW MORE

Track 8 from Grow Up and Blow Away
Length: 00:04:14
Year: 2001
Track Description:
Roll me out in the arms of cobwebs

SHOW LESS

7
Beck : Dark Star
"Ammunition souls shooting
Holes in the ozone".

and my gawd wot a bassline.

SHOW MORE

Track 8 from The Information
Length: 00:03:45
Year: 2006
Track Description:
"Ammunition souls shooting
Holes in the ozone".

and my gawd wot a bassline.

SHOW LESS

8
Taj Mahal : Corinna
"Got a rainbow round my shoulder, Shine like silver, Baby look like Klondike gold"

(also, a moon on [...]

SHOW MORE

Track 2 from The Natch'l Blues
Length: 00:03:00
Year: 1968
Track Description:
"Got a rainbow round my shoulder, Shine like silver, Baby look like Klondike gold"

(also, a moon on the album cover)

SHOW LESS

9
Buck 65 : Blood of a Young Wolf
zoom, kick, persuasion, tech, zoom, kick, persuasion, tech

SHOW MORE

Track 8 from Secret House Against the World
Length: 00:05:25
Year: 2005
Track Description:
zoom, kick, persuasion, tech, zoom, kick, persuasion, tech

SHOW LESS

10
Cat Power : Speak for Me
Old world, the whole world is Going on and on...

(its all about cat power lately)

SHOW MORE

Track 4 from You Are Free
Length: 00:03:06
Year: 2003
Track Description:
Old world, the whole world is Going on and on...

(its all about cat power lately)

SHOW LESS

11
New Young Pony Club : Ice Cream
bop to this

SHOW MORE

Track 1 from Ice Cream
Length: 00:03:22
Year: 2006
Track Description:
bop to this

SHOW LESS

12
Go Home Productions : Rap Rider
Blondie and the Doors, gotta have at least one mashup in there

SHOW MORE

Track 1 from Independant
Length: 00:05:37
Year: 0000
Track Description:
Blondie and the Doors, gotta have at least one mashup in there

SHOW LESS

13
Lovage : Tea Time With Maseo
take a break, go get a beer.

SHOW MORE

Track 14 from Music to Make Love to Your Old Lady By
Length: 00:01:38
Year: 2001
Track Description:
take a break, go get a beer.

SHOW LESS

14
Nappy Roots : Ho Down (feat. The Barkays)
another mixtape staple, the dirty rap song.

SHOW MORE

Track 19 from Watermelon, Chicken & Gritz
Length: 00:04:46
Year: 2002
Track Description:
another mixtape staple, the dirty rap song.

SHOW LESS

15
Michie Mee : Don't Wanna Be Your Slave
and something more on the positive tip. what was that about materiality?

SHOW MORE

Track 3 from The First Cut Is The Deepest
Length: 00:04:27
Year: 2000
Track Description:
and something more on the positive tip. what was that about materiality?

SHOW LESS

16
Spearhead : Wayfarin' Stranger
Gee ain't it funny - how time slips away

SHOW MORE

Track 13 from Chocolate Supa Highway
Length: 00:05:28
Year: 1996
Track Description:
Gee ain't it funny - how time slips away

SHOW LESS

17
Michael Andrews : Mad World (feat. Gary Jules) (remix)
yea, it is.

SHOW MORE

Track 20 from Donnie Darko Soundtrack
Length: 00:03:38
Year: 2002
Track Description:
yea, it is.

SHOW LESS

18
Cat Power : Willie
have you seen him?

SHOW MORE

Track 6 from The Greatest
Length: 00:05:57
Year: 2006
Track Description:
have you seen him?

SHOW LESS

19
Ott : Smoked Glass And Chrome
The title track. I started here and worked my way out.

SHOW MORE

Track 9 from Blumenkraft
Length: 00:08:34
Year: 2003
Track Description:
The title track. I started here and worked my way out.

SHOW LESS

20
Shpongle : Room 23
bye bye

SHOW MORE

Track 4 from Tales of the Inexpressible
Length: 00:05:04
Year: 2001
Track Description:
bye bye

SHOW LESS
Tag Board
You must log in to leave a tag
Stuff
Quick Jump
draggin's other mixes
Related mixes
recent visitors
show all